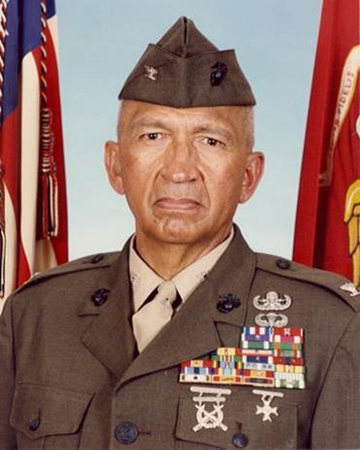 April 9, 1932 ~ October 7, 2020
Born in: Los Angeles, CA
Resided in: Asheville, NC
Colonel Philip Clark Cisneros, USMC (ret), 88, died on Wednesday, October 7, 2020 in Asheville, North Carolina. Philip Cisneros was born in East Los Angeles, California in 1932 and enlisted in the Marine Corps in 1950. He was wounded (the first time) during fighting in Korea when serving with 3d Battalion, 7th Marines. Following thirteen months in Korea (including operations at the iconic Chosin Reservoir), Then Sgt Philip Cisneros, became one of the youngest Drill Instructors in the Marine Corps (age 20). He served with Explosive Ordnance Disposal through two subsequent tours. After additional meritorious time with the infantry, he was selected for the Warrant Officer Program.
When the Vietnam War began, then CWO-3 Cisneros received a temporary appointment to second lieutenant (with a cut in pay) where he again assigned to the infantry. In 1969, then Captain Cisneros transferred to Vietnam and commanded Company I, 3d Battalion, 9th Marines. It was in June of 1969 that Captain Cisneros was awarded the Silver Star (third highest award for valor) and a second Purple Heart for his actions in a desperate fight against a much larger enemy force. Captain Cisneros returned to Vietnam for his third combat tour when he served as an advisor to the Vietnamese Marines during the Easter Offensive of 1972. Finally, then Captain Cisneros helped close the last actions of the Vietnam War when, as Commander of the Marine Detachment on the USS Midway, he participated in Operation Frequent Wind – the evacuation of Saigon before that city fell to the North Vietnamese Army.
Philip Cisneros commanded two more infantry companies and was twice the operations officer of large Marine Corps organizations. In recognition of his skills and service, he also served as an instructor and advisor at the Amphibious Warfare School and as Deputy of the Tactical Exercise Control Group at the Marine Corps' Air Ground Combat Center. As a lieutenant colonel, he commanded 1st Landing Support Battalion and Brigade Service Support Group 5 (normally a position requiring a colonel). After promotion to colonel, he again commanded Brigade Service Support Group 5. The final tour of duty for this legendary Marine was as Chief of Staff of the Combat Center, but for years afterward Colonel Cisneros was a fixture and mentor to a new generation of Marines at the 29 Palms Marine Corps Base – those who proved their skills during the Afghanistan and Iraq War conflicts.
From a young Hispanic out of East Los Angeles, to a Marine private in Korea, heroic service in Vietnam as a company commander and advisor, through multiple command assignments and mentoring tours, Colonel Cisneros was an inspiration to all Marines through his 42 years of service. His experiences were almost unparalleled, but it was his engaging leadership and irrepressible enthusiasm that made him one of the favorite Marines of his era.
Upon leaving the Marine Corps, Colonel Cisneros continued supporting Marines and their families; started the Retired Activities Office in 29 Palms Marine Corps Base. As a retiree, Colonel Cisneros established and coordinated the Memorial Day Ceremony held at the 29 Palms Cemetery and was instrumental with establishing the Armed Services YMCA aboard the base in 29 Palms. In addition, in 1993, he successfully ran for public office and served as the director and vice president of the Twentynine Palms Water District's Board of Directors until 2013.
He is survived by his wife of over 70 years, the former Virginia A. Barron, and their five children and sons-in-law and daughter-in-law, Marianne and Lt. Colonel Thomas Farrell, USMC, (Ret), Philip M. Cisneros, Dr. Vivianne Cisneros Wersel, Adrianne and Don Candy, and Robert and Lori Cisneros. Also, Colonel Cisneros is survived by 9 grandchildren and 7 great grandchildren. Preceded in death by his son-in-law, Lt. Colonel Richard Wersel, Jr., USMC, and brother, Laurence Cisneros, and sister, Betty Herr.
Colonel Cisneros will be interred in Arlington National Cemetery, date undetermined.
Services
Add to My Calendar
America/New_York
1970-01-01 00:00:00
1970-01-01 00:00:00
Colonel Philip Cisneros, Funeral Home Assisting The Family
Funeral Home Assisting The Family
1401 Patton Ave.,Asheville, NC 28806
Burial:
Arlington National Cemetery
1 Memorial Avenue
Arlington, Virginia 22211
877-907-8585

Add to My Calendar
America/New_York
1970-01-01 00:00:00
1970-01-01 00:00:00
Colonel Philip Cisneros, Burial
Burial
1 Memorial Avenue,Arlington, Virginia 22211
Memories Timeline
Guestbook
Sign the Guestbook, Light a Candle